Last Friday, Ashley & I drove to Houston for the International Quilt Show.  We met my mom in Hempstead and all drove downtown together.  We had a blast.  I forgot how much I enjoy crafts, fabric and needle work.  I rarely did any of that in Idaho.  I guess I never found places to inspire me in these areas.
On Saturday, I sat down to make a pillow from felted wool, but one of the pieces in the kit was wrong.  So I couldn't even cut the background piece to get started.  I was pumped up & ready make something…anything.  On to the next project I got yesterday.
Have you seen needle punching?  It's the lastest fad, and lots of fun.  I couldn't find my embroidery floss.  I know I saw it when I unpacked my craft boxes this summer, but now I can't remember where I put it.  So, off to Joann's Fabrics.  I decided to make a pumpkin, in time for Thanksgiving.  I may use it as a coaster.
Here's the back.  You can see the special needle inserted into the weaver's cloth.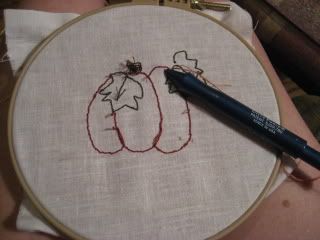 Here's the front.  No, it's not finished.  When I get it finished I'll post a picture.  It goes very fast, so I hope to finish it this week.